Increase in
Organic Traffic in 6 months
Increase in
Organic Traffic in 18 months
Dream Cottages are Dorset's largest holiday cottage agency with over 300 properties. Dream Cottages were independent up until their recent acquisition by Sykes Cottages. Established over 30 years ago, Dream Cottages have an extensive array of properties across Dorset from Weymouth to Lyme Regis.
Dream Cottages approached Assertive in 2014 looking for a new SEO agency to deliver an SEO strategy. After subsequent website auditing, it was clear that Dream Cottages needed a new website.
The challenge for Assertive was to deliver a new website and SEO strategy for Dream Cottages. Upon the initial website audit, it was clear that there were significant issues with the website relating to poor mobile user experience, poor page-level engagement, clunky menu and more.
It was essential for the website to rank and for end-users on the website to find it easy to find properties, book and pay online.
The challenge was to deliver a completely new website on a budget that was manageable for the client.
Research holiday cottage competitors
Increase rankings for all relevant top-level Dorset cottage searches as well as location + property searches
Increase total online bookings & online revenue
Produce wireframe/schematic for new website layout
Plan out a new website content profile & new, dynamic navigation
Re-build API for Booking Platform
Produce new landing page content
Trial new page layouts
Improve user experience cross-browser / cross-device
Improve site speed
Improve organic keyword coverage
Improve local SEO performance
The Goals with Sykes
Dream Cottages
Improve Organic Rankings for Relative Keywords (Local and Non-Local Commercial Terms)
Increase Website Engagement
Increase Website Conversion Rate
Reduce POGOing (returning to Google)
Increase Volume of 1st to Last Interaction
Increase Client Ability to Self-Manage Website
Move Client away from Bespoke CMS to Industry Standard CMS
Integrate New Booking Functionality
Increase Brand Awareness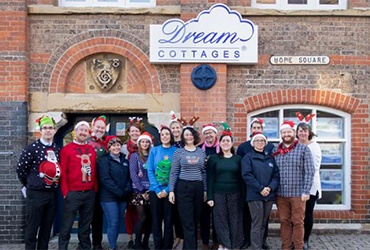 The strategy for Dream Cottages was to use existing user performance/user behaviour data along with click & heat mapping to produce a new, user-friendly, mobile-first design that kept simplicity at heart. Collecting user behaviour data, we were able to ascertain what site visitors were doing, from first to last session interaction.
Our strategy was to deploy a new website that was faster, lighter, easier to use with far better mobile accessibility. We also incorporated easy access to content with site layering & enhanced internal linking coupled with intuitive navigation for both desktop and mobile devices.
Assertive combined comprehensive user behaviour data, heat mapping & click data to formulate wireframes & design concepts that took into consideration what people liked and what made the website easier to navigate / properties easier to book.
Once the new website had been designed, built, tested and deployed, we worked on a link building and ongoing user experience strategy. Over time, leveraging Google optimise, we were able to improve landing page performance, increase CTR and reduce bounce rate.
What our clients say about the service we deliver.
We have worked with Assertive for over 5 years now and can't fault their attitude and commitment to what they do. They know what they are doing and are able to communicate on a level commensurate with their client's knowledge; which for me was key. They are results-driven and always contactable.